Feb 28, 2020
Pure and simple : 3 things to keep in mind when choosing your UHP pressure regulator
UHP gases are demanding, but choosing a pressure regulator doesn't have to be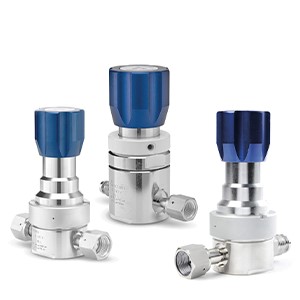 There's no room for compromise when it comes to dealing with ultra-high purity (UHP) gases. To safely and effectively reduce the pressure on a UHP line, you need a regulator that won't let you down.
Most people in our industry know that Rotarex's Puretec cylinder valves are among the best in the world. For anyone who knows the high standard our name stands for, it should come as no surprise that our pressure regulators – as well as the rest of our UHP equipment range – are made to the same premium standard.
UHP gases are used in the production of everything from semiconductors to LEDs and photovoltaics, and, depending on the application, pressure regulators have to meet very different requirements. With so many factors affecting performance, selecting a regulator can feel like tedious work. We'd like to guide you to through the selection process, and help you find exactly what you're looking for.
Safety
The first thing to consider is what gas the regulator will be used for. Many UHP gases can be toxic, flammable, oxidizing and/or corrosive. Every Rotarex pressure regulator undergoes stringent helium leak tests, so you can count on them to not let any harmful gas out or through. You also need to ensure the gas is compatible with the material of the regulator.
Purity
It's the P in UHP, so it goes without saying that you need to keep the gases uncontaminated. For UHP gases deployed in cleanrooms (in the manufacture of microchips and semiconductors, for example), even the tiniest imperfection can throw a huge wrench in the works. Naturally, Rotarex UHP equipment itself is assembled, tested and packaged entirely in ISO 4 cleanrooms and electropolished to improve corrosion resistance.
Depending on the purity grade of the gas being used, you may need to avoid even the nano-sized particles produced by thread and spring-based mechanisms, which is why Rotarex also offers pressure regulators in which no moving parts come into contact with the gas at all. For especially pure gases, the regulator can receive additional surface treatment. Special grade 316L stainless steel (single or double melted/VAR), for instance, may require a surface finish to further protect against corrosion, which would damage the equipment and ruin the purity of gas.
Precision
As well as being sure of the type and material, you also need to consider where on the line your UHP pressure regulator will be used. For high-precision application, the supply pressure and maximum gas flow need to be taken into account.
If the pressure regulator is installed just after the cylinder, it will need to be able to deal with extremely high inlet pressure, up to 240 bars, and reduce it as it enters the much lower pressure pipes. Meanwhile, if a pressure regulator is at the end of the line, where the inlet pressure will be relatively low, the outlet pressure and flow will need to be incredibly specific and precise for the gas's application.
Taking the Pressure Off
Now that you know what you need out of a UHP pressure regulator, choosing one will be a cinch. In our UHP product catalog, all the information you need is available at a glance. No matter your specific requirements, you'll find it at Rotarex.