Oct 24, 2018
Rotarex Bringing Industry-Leading Gas Control Equipment at Analytica China 2018
Featured solutions include a wide range of pressure regulators for specialty gases and high quality UHP gases equipment.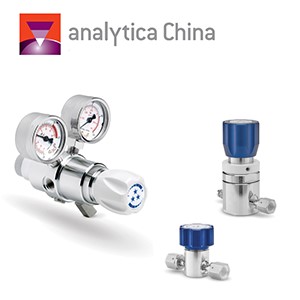 Lintgen, Luxembourg 24 October, 2018—rotarex.com—Rotarex SA, is set to showcase industry-leading gas control equipment solutions for making labs safer and more efficient at Stand E1.1114 during analytica China, October 31 - November 2, at Shanghai New International Expo Center.
Analytica China is China's largest trade fair for the analysis, laboratory-technology and biotechnology sectors. As the industry's leading marketplace in China, it brings together scientists, entrepreneurs and end-users from around the world.
Among the standout products on display: a full range of industry-leading pressure regulators from Rotarex, including our latest mounted and integrated point-of-use products. Engineered to ensure precision flow with a long lifetime of service, there's a Rotarex pressure regulator for even the most exacting laboratory needs.
On the booth, will also be featured the Rotarex UHP line valves and regulators range. Paul Delecourt, Rotarex Marketing Coordinator commented: "We're recognized as the world leader in UHP cylinder valves. But what is less well-known is that we are offering a comprehensive line of premium ultra-high purity gas equipment that includes pressure regulators, line valves, fittings and connectors, making Rotarex a one stop shop for equipment from cylinder valves to points of use. In Analytica China show, visitors will see one of the industry's most complete selections of UHP equipment, manufactured with the same quality they find in our cylinder valves."
---
About Rotarex
Rotarex designs and manufactures the widest range of high-quality gas control products that deliver peak performance, giving sellers, users or installers of gas equipment confidence that their projects will achieve better success. With ISO certified manufacturing standards and unmatched source through production quality control, Rotarex products perform better, require less maintenance and have a longer life.
Media Contact
Paul Delecourt