Nov 08, 2018
Rotarex Meditec showcasing wide range of medical gas equipment at Medica 2018
Improving Patient Outcomes through Medical Gas Control Expertise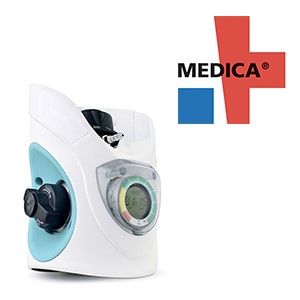 Lintgen, Luxembourg 08 November 2018 – www.rotarex.com - Rotarex Meditec, a business unit of Rotarex SA, announced today it will show its complete line of medical gas equipment, components, accessories and systems at Booth 3B70 during Medica 2018, from 12 - 15 of November in Düsseldorf, Germany.
Among the innovations on display: Our digital VIPR valves, which deliver better accuracy and safety. How? By replacing the analog pressure gauge dial with an easy-to-read digital display and by deploying software that calculates exact cylinder contents from continual pressure sensor and temperature measurements.
Rotarex Meditec offers one of the industry's most complete product ranges, extending from the gas source to the delivery of patient medical gas therapy. Striving to achieve the highest level of safety and performance drives Rotarex Meditec to continually develop innovative products.
The Rotarex Meditec team will be on hand Booth 3B70 during Medica 2018 in Düsseldorf to greet distributors, gas system installers, healthcare facility personnel and gas companies with presentations, answers to their questions and detailed information on Rotarex Meditec's comprehensive medical gas solutions.
---
About Rotarex Meditec
Rotarex Meditec provides medical gas safety, control and productivity for confident patient outcomes. It offers one of the industry's most complete ranges of medical gas control equipment and is the world's reference for medical cylinder valves. Experience, dedication to quality and technical excellence enable gas companies and hospital gas system installers to be confident that their projects will achieve the highest level of safety and performance. Present in over 65 countries with factories and sales offices in key locations around the world, Rotarex Meditec customers receive the products and services they need wherever they are.
Media Contact
Paul Delecourt