Oct 20, 2021
Rotarex Meditec in practice: The growing scope of nitric oxide therapies
From emergency, in-hospital rooms, until homecare, medical grade gases contribute to providing quality patient care. When we talk about medical gases the first reflex is to think of oxygen but it is not the only gas used to save lives. For example, medical nitric oxide plays an important role in vasodilation. As a combination with oxygen, nitric oxide (NO) infused with nitrogen (N2) is also used in therapies for pulmonary complications. This gas mixture increases the oxygenation index and decreases the need for ECMO. Primarily used to treat newborns having trouble adapting to breathing on their own, NO's scope of applications has grown in the course of the last decade.
The beginnings: NO for 'Blue Baby Syndrome'
The Blue Baby Syndrome is a condition that occurs when neonates' skin turns blue due to the lack of oxygen in their blood. Before babies are born, they get oxygen from the placenta through the umbilical cord and they don't need to use their lungs to breath. When the umbilical cord is cut at birth, babies no longer receive oxygen from the placenta and need to adapt breathing on their own. Some babies face difficulties caused either by environmental, congenital or genetic factors.
Since the 1990's, nitric oxide is prescribed to treat babies with acute hypoxic respiratory failure (AHRF). Inhaled nitric oxide is delivered directly to the lungs, where it causes blood vessels to relax and open. As the blood vessels open, pressure in the lungs decreases, allowing increased blood flow to the lungs. In this sense, the transport of oxygen to the different organs is facilitated.
Broader spectrum of applications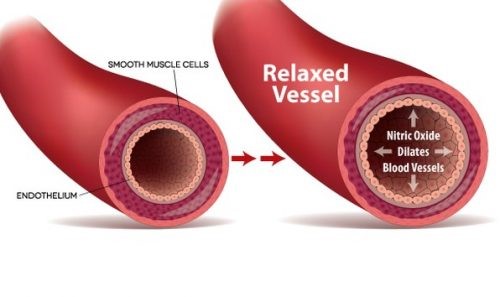 Thanks to its well-established vasodilator property, the use of Nitric Oxide (NO) has been expanded over the years to several treatments for cardiopulmonary diseases. We count a series of applications from cardiac transplantation, through pulmonary hypertension (PH), to chronic obstructive pulmonary disease (COPD).
Lately with covid-19 pandemic, NO has been proven effective to prevent viral replication, improve arterial oxygenation, reduce the need for ventilation support and prevent the proliferation of lung infiltrates. NO treatment has therefore played a key role in the pandemic management strategy, avoiding the need for intensive care in some cases. These are just a handful of potential applications and more applications will be developed over the time.
Dependable gas-control solutions
The treatment is administrated through a breathing device mixing nitric oxide together with oxygen. This device is placed on a cart and connected to two gas cylinders. Rotarex' solution consists of a stainless-steel cylinder valve (D113 or D413) together with a fixed outlet pressure regulator (SC280 or DI235). Besides, our R&D department recently designed a valve with built-in pressure regulator (VIPR) to complete the NO offer for gas cylinders. Rotarex is also able to supply a compact valve for portable NO delivery systems allowing outpatient care. All our CE & FDA approved products are designed with usability and safety in mind. Present in over 65 countries with factories and sales offices in key locations around the world, Rotarex Meditec customers receive the products and services they need wherever they are.