Feb 07, 2019
Rotarex to showcase industry-leading UHP valves & gas equipment at Semicon China 2019
Lintgen, Luxembourg 7 February 2019—www.rotarex.com—Rotarex announced today that it will exhibit at SEMICON China 2019 to present its industry-leading range of ultra-high purity gas control equipment.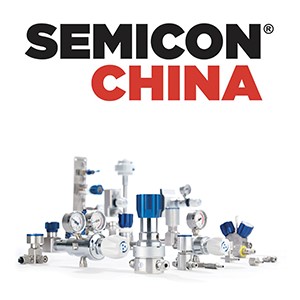 Rotarex pioneered the gas technologies now commonly used in the semiconductor industry. It was the first to design, develop and manufacture premium quality an ultra-high purity cylinder valve with the required level of purity, compatibility, safety and durability. Now, as UHP gases are used in an increasing spectrum of applications, Rotarex leverages its expertise and R&D infrastructure to develop innovative solutions that continue to set industry standards for performance. Among the standout products on display: the new open-close indicator valve for safer operations. It improves safety by clearly showing the valve's open-closed position at-a-glance.
Of course, visitors will also find Rotarex' full range of UHP Pressure Regulators and line valves, cryogenic bellows valves, and their industry-leading UHP cylinder valves.
Asia is the fastest growing UHP gas market, and SEMICON China 2019 will be the region's premier event for the semiconductor and microelectronics industries. Attendees will come from around the world to visit companies that provide equipment, materials and services used in the manufacturing of semiconductors and electronics.
Get hands-on with Rotarex products at Stand 7110 at Semicon China, March 20-22, 2019 in Shangai.
---
About Rotarex
Rotarex designs and manufactures the widest range of very high-quality gas control products for delivering peak performance—giving sellers, users or installers of gas equipment confidence that their projects will achieve better success. With over 100 patents in its portfolio, ISO certified manufacturing standards and unmatched source through production quality control, Rotarex products perform better, require less maintenance and have a longer life. Rotarex is present 65 countries worldwide and serves Asian customers in China and beyond from its offices in Shanghai, Taipei, Tokyo, Singapore, Bangkok, Seoul, Mumbai and Dubai.
©2019 Rotarex. All rights reserved. Rotarex and their respective logos are trademarks or registered trademarks of Rotarex, SA. All other brand, service or product names are trademarks or registered trademarks of their respective companies or owners.
Media Contact
Paul Delecourt