Jan 31, 2022
Rotarex is attending Semicon Korea 2022
Lintgen, Luxembourg 31 January 2022 —www.rotarex.com—Rotarex announced today that it will attend SEMICON Korea from February 9th to 11th, 2022. Rotarex will present its industry-leading ultra-high purity gas cylinder valves and gas control equipment especially designed to meet the microelectronics industry requirements.
Rotarex UHP cylinder valves, branded under Puretec line, are now commonly used in the semiconductor, solar panels or LED industries. Rotarex UHP equipment range offers the same level of quality than cylinder valves and makes gas distribution safe and reliable. All our UHP gas control products preserve the purity of the gases in microchips production using advanced materials and technologies to prevent particle generation.
Semiconductors such as memory chips are a backbone and a prerequisite for any endeavors in emerging technologies. From Artificial intelligence (AI) reliant smartphones to the adoption of the Internet of Things (IoT), 5G, the healthcare or automotive sectors – semiconductors are everywhere. In the race for innovation, requirements are changing and companies in the sector must adapt quickly. With its strong research and development capabilities, Rotarex keeps developing innovative solutions to answer the evolving needs.
Organized by SEMI, SEMICON Korea is the largest event for the semiconductor industry in Korea. As an exhibitor, Rotarex will showcase its entire UHP product range as well as products equipped with value-added options such as the LOTO (Lock Out Tag Out) for line valves or the easy-to-see open-close indicator for cylinder valves.
Meet Rotarex Korean team at Booth A744 Hall A at Semicon Korea, February 9th-11th in COEX Seoul.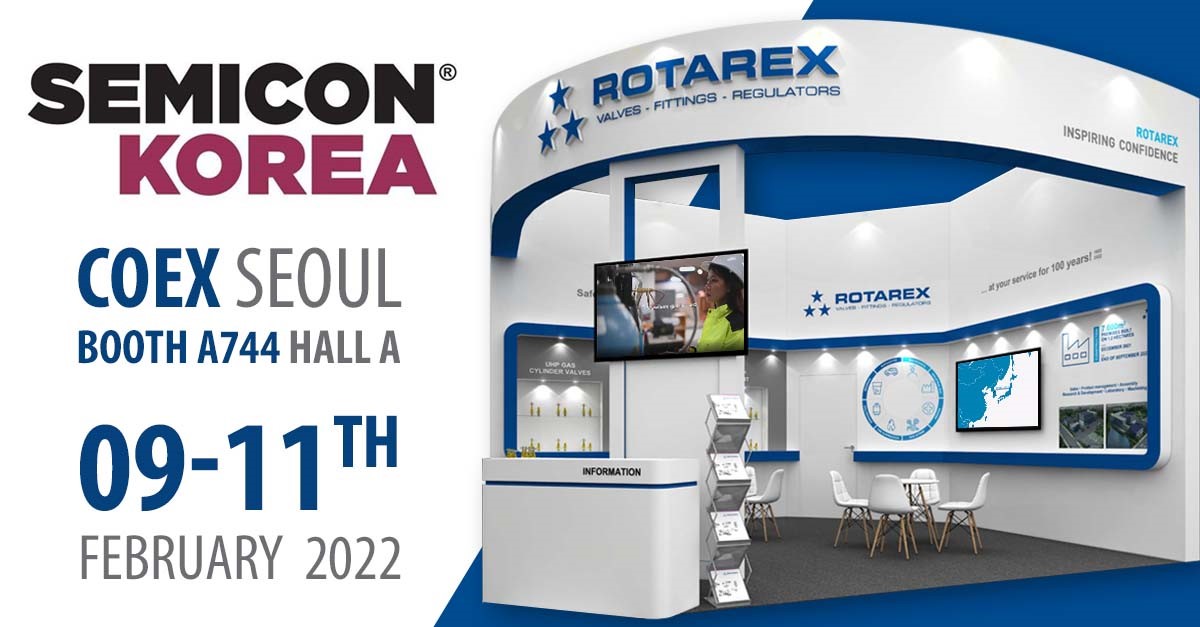 About Rotarex
Rotarex designs and manufactures the widest range of very high-quality gas control products for delivering peak performance. With over 350 patents in its portfolio, ISO certified manufacturing standards and unmatched source through production quality control, Rotarex products perform better, require less maintenance and have a longer life. Rotarex is present 65 countries worldwide and serves Asian customers in Taiwan and beyond from its offices in Shanghai, Gyeonggi-do, Tokyo, Singapore, Bangkok, Seoul, New Delhi and Dubai.
Media Contact
Mélissa Cromer