Jan 25, 2023
Rotarex UHP solutions showcased at SEMICON Korea 2023
Lintgen, Luxembourg 25 January 2023 —www.rotarex.com—Rotarex Ceodeux division will attend SEMICON Korea 2023 from February 1st to 3rd. Rotarex will showcase its premium quality ultra-high purity gas control solutions fitted for the most stringent requirements of the semiconductor industry, as well as other demanding manufacturing processes.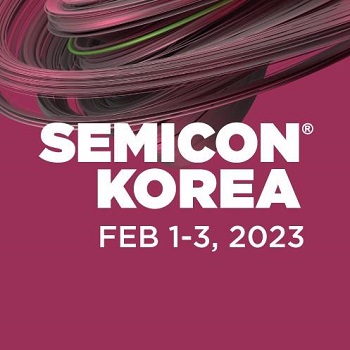 Designed for semiconductor, photovoltaic (solar cells), LED light manufacturing processes, Rotarex ultra-high purity products make hazardous gases (electronic, corrosive, toxic and specialty gases) distribution particularly safe and reliable. Our entire range preserve the purity of the gases, used mainly in the microchips production, by preventing particle generation thanks to their advanced designs and materials. We cover all type of UHP applications: gas cabinets, valve manifold boxes (VMB), process tools, gas delivery systems, hook ups, bulk gas tanks, tube trailers etc.
Semiconductors, integrated circuits or, most simply, chips are these tiny pieces of silicon which embody the foundations of our current digital world. Hidden in smartphones, computers, cars, medical equipment and so many other commonly used devices – semiconductors are everywhere. The digital world is changing fast, and companies must adapt quickly to stay competitive. Rotarex's R&D department keeps developing innovative solutions to answer the evolving needs of its clients all around the world.
Organized by SEMI, SEMICON Korea is the largest event for the semiconductor industry in Korea. As an exhibitor, Rotarex will showcase its entire UHP solutions : obviously its world renowned Puretec cylinder valves, but also its threadless and springless pressure regulators, diaphragm line valves, fittings, CGA/DISS cylinder connectors as well as customizable sticks and gas panels manufactured in Class 10 clean room conditions.
At the end of November last year, Rotarex inaugurated its brand new manufacturing plant in Asan-city, South Korea. The plant has started to produce locally some of Rotarex's high value-added products, especially for high to ultra high purity gases. In addition, sales, product management and research and development teams have been formed to better understand and meet the requirements of local companies.
Meet Rotarex Korea team of experts at Booth B635 Hall B at SEMICON Korea, February 1st-3rd in COEX Seoul.
About Rotarex
Rotarex designs and manufactures the widest range of very high-quality gas control products for delivering peak performance. With over 350 patents in its portfolio, ISO certified manufacturing standards and unmatched source through production quality control, Rotarex products perform better, require less maintenance and have a longer life. Rotarex is present 65 countries worldwide and serves Asian customers from its state-of-the-art plant in Asan-city and far beyond from its offices in Taiwan, Shanghai, Tokyo, Singapore, Bangkok and New Delhi.
Media Contact
Mélissa Cromer